Change in diet in the period from adolescence to early adulthood: a systematic scoping review of longitudinal studies
International Journal of Behavioral Nutrition and Physical Activity
2017
14:60
Received: 23 November 2016
Accepted: 22 April 2017
Published: 4 May 2017
Abstract
Background
Late adolescence to early adulthood is a period of lifestyle change and personal development which may influence dietary behaviour. Understanding dietary trajectories across this age range may help in targeting interventions appropriately. This scoping review aimed to assess how longitudinal change in diet is conceptualised and measured between the ages of 13 to 30.
Methods
We searched Medline, SCOPUS, Embase, PsycInfo (EBSCO), ASSIA, Sportdiscus, and Web of Science Core Collection (January 2016) using search terms combining diet outcomes, longitudinal methods and indicators of adolescent or young adult age. Titles and abstracts were screened and data extracted following published guidelines for scoping reviews. Data were analysed to summarize key data on each study and map availability of longitudinal data on macronutrients and food groups by age of study participants.
Results
We identified 98 papers reporting on 40 studies. Longitudinal dietary data were available on intake of energy, key macronutrients and several food groups, but this data had significant gaps and limitations. Most studies provided only two or three waves of data within the age range of interest and few studies reported data collected beyond the early twenties. A range of dietary assessment methods were used, with greater use of less comprehensive dietary assessment methods among studies reporting food group intakes.
Conclusion
Despite limited availability of longitudinal data to aid understanding of dietary trajectories across this age range, this scoping review identified areas with scope for further evidence synthesis. We identified a paucity of longitudinal data continuing into the mid and late twenties, variability in (quality of) dietary assessment methods, and a large variety of macronutrients and food groups studied. Advances in dietary assessment methodologies as well as increased use of social media may facilitate new data collection to further understanding of changing diet across this life stage.
Keywords
DietAdolescentYoung adultLongitudinalTrajectory
Background
During adolescence and early adulthood, poor diet contributes towards immediate health risks, such as weight gain, inadequate bone mineralization and poor academic performance [1]. However, in addition, poor diets developed in childhood frequently persist into adulthood [2], influencing risk of chronic disease in later life including diabetes, cardio-vascular disease and certain cancers [3–5]. The period of late adolescence to early adulthood has been suggested as an important but overlooked age for establishment of long-term health behaviour patterns [6].
Adolescence is a period of rapid physiological and psychological development [7], while early adulthood has been described as 'demographically dense', characterised by transitions between different social roles [8]. In addition to further development of self-identity during this period [9], individuals experience major transitions during the adolescent to early adulthood period. These include changes in social environment and social influences, moving from family dependence towards stronger peer networks and development of intimate partner relationships. There may be changes in the home environment, with individuals often moving out of the family home to live independently, changes in school/work environment from secondary to further education and into employment and changes in financial circumstances, with individuals often achieving financial independence during this period. Many of these factors show associations with diet and eating behaviours in this age range [10–12].
Despite tracking of diet between childhood and adulthood [2], there is evidence to support the "habit discontinuity hypothesis" which states that behaviour change is more likely to be successful when a context change disrupts individuals' pre-existing habits [13, 14]. Adolescent to adult transitions may thus present opportunities for interventions to improve diet. In order to develop and target public health interventions most appropriately, it is important to understand underlying changes in diet throughout this period, the establishment of long-term dietary patterns, and factors that impact on changes in diet.
While a number of studies have reported on longitudinal changes in diet over the period from adolescence to early adulthood, the evidence is diverse in terms of the dietary measures of interest, methods of dietary assessment, age range of interest and frequency of follow-up [15–17]. The heterogeneous nature of this evidence can make systematic review and meta-analysis difficult, nevertheless a comprehensive overview of the literature is needed to provide an understanding of the data available and current knowledge on change in diet across this age range. The purpose of this work was to support this by conducting a systematic scoping review and synthesis to identify the range of available evidence and address the question: How is longitudinal change in diet conceptualised and measured in the period from adolescence to early adulthood (age 13–30)? Specifically, we aimed to: (1) map the cohorts providing data on longitudinal diet, by country, size, data collection period and method of dietary assessment used; (2) assess the evidence available across macronutrients and food groups; and (3) analyse the number of repeated measurements and age ranges covered by data on each macronutrient and food group. From this data synthesis we make recommendations for further systematic review and data collection to address questions concerning change in diet in this age range.
Methods
We carried out a scoping review following published guidelines [
18
–
21
], as shown in Table
1
.
Table 1
Scoping review definition and methodology
| | |
| --- | --- |
| "A scoping review or scoping study is a form of knowledge synthesis that addresses an exploratory research question aimed at mapping key concepts, types of evidence, and gaps in research related to a defined area or field by systematically searching, selecting, and synthesizing existing knowledge." [21] | |
| Stages of the scoping review methodology: [18] | |
|  1. Identifying the research question | |
|  2. Identifying relevant studies | |
|  3. Study selection | |
|  4. Charting the data | |
|  5. Collating, summarizing and reporting the results | |
We registered the review on PROSPERO (ref: CRD42015030126).
We looked for prospective longitudinal data on dietary intake reported between mean ages of 13 and 30 years. While a consensus has not been reached on a definition of early adulthood, Rindfuss [8] suggested the 30th birthday as the end of the young adult years. Adolescence is defined by the World Health Organization (WHO) as ages 10 to 19 years [22], however we begin our review at age 13 years, since we are primarily interested in transitions occurring from mid-adolescence to early adulthood. This period includes that of 'emerging adulthood' which has been conceptualised as covering the period from age 18 to 25 years and postulated as a transitionary period between adolescence and full adulthood [23].
We searched Medline, SCOPUS, Embase, PsycInfo (EBSCO), ASSIA, Sportdiscus, and Web of Science Core Collection in January 2016 using search terms that combined diet outcomes, longitudinal methods and indicators of adolescent or young adult age range. Since this review was conducted in parallel with a partner review looking at change in physical activity (PROSPERO ref.: CRD42015030114), the search terms also included physical activity outcomes. The full search strategy as applied to Medline is shown in Additional file 1: Table S1. We also conducted additional hand searches; checking the reference lists of all included papers, and citation searches of key included papers which addressed the same research question as this review.
Three researchers (EW, KC, EvS) screened titles and abstracts of identified records against a set of inclusion and exclusion criteria (Table
2
). Firstly, the researchers independently screened the same 500 records and compared their results in order to ensure consistency in deciding on study eligibility. This process was repeated 3 times until acceptable consistency was reached (93% agreement between all three reviewers). The remaining titles and abstracts were then screened by one of the three researchers. Full texts of potentially eligible studies were retrieved, separated by behaviour of interest, after which the diet-related full text papers were assessed against the inclusion and exclusion criteria by two researchers (EW and TP) independently. There was 93% initial agreement on inclusion/exclusion and discrepancies were resolved by discussion. Any remaining disagreements or uncertainties between the reviewers were resolved by discussion within the wider research team.
Table 2
Inclusion and exclusion criteria for the review
Inclusion criteria

Exclusion criteria

Setting

Any country

Studies where specified data (see below) was collected during or after 1980

Studies reporting on data collected prior to 1980

Participants

Those aged between 13 and 30 years, inclusive

Those aged below 13 years of age or above 30 years of age

Participant groups selected based on a pre-existing health condition (including obesity, eating disorders, malnutrition) or pregnancy

Studies where participants are only competitive athletes

Outcomes

A measure of diet, including:

- Energy intake

- Intake of macronutrients or micronutrients

- Intake of particular food groups

Studies including no dietary outcomes

Studies reporting tracking of dietary behaviours only with no data on absolute change in behaviour

Studies reporting solely on alcohol intake

Studies reporting on eating disorders or weight reduction behaviour

Studies reporting on diet quality indices or dietary patterns only

Study type

Longitudinal prospective quantitative studies, with data reported including on specified outcomes at at least 2 time points (minimum 1 year apart) where mean age of the cohort is between ages 13 and 30 inclusive

Cross-sectional studies

Intervention studies/trial analyses

Case-control studies

Retrospective studies

Qualitative studies

Reviews

Publication type

Journal article

Conference abstract, study protocol, report, dissertation, book and professional journal

Language

English

All other languages
Data were extracted from each included study on the diet outcomes reported, together with details of the ages at which data were available, further details of the study population and context (the size of each cohort, country and period of data collection, the variation in age of the cohort at baseline), and the dietary assessment method used. Data extraction was undertaken by one researcher (EW) and checked by a second (TP). No formal quality assessment was undertaken following standard practice for scoping reviews [18].
Data were summarized to record the number of papers and studies retrieved by country and record key details extracted from each study, including the number of data points collected between mean ages of 13 and 30 and the mean age of the cohort at each data collection. We then focussed on mapping of data by macronutrients and food groups and, for each macronutrient or food group where 5 or more studies had reported data, graphed the availability of data from each study by mean age at each data collection point. We grouped data on foods and food groups under seven food groups. However, we note that the data collected by different studies is not always easily comparable. For example, within the category 'dairy' this includes both studies that report data on all dairy consumption, as well as studies reporting on consumption of specific dairy products such as milk or cheese.
Results
Searches identified a total of 21,402 records following the removal of duplicates. After initial screening of titles and abstracts, we considered 318 references for full text review for the current scoping review. One paper was added from additional citation searches of included articles (Fig.
1
). In total, 98 papers were included which reported longitudinal data on dietary intake between the ages of 13 and 30.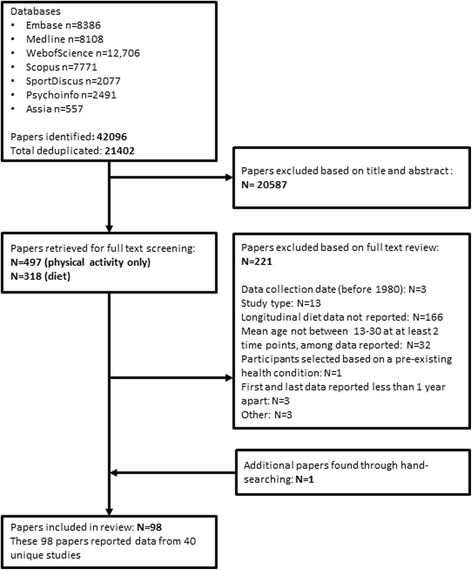 Discussion
Identifying the range of available evidence to better understand changing diet through adolescence and into early adulthood is a crucial first step to inform further evidence synthesis and epidemiological analysis, and provide evidence to support appropriate targeting of dietary public health interventions. The aim of this paper was to explore how longitudinal change in diet has been conceptualised and measured between the ages of 13 and 30. To our knowledge this is the first overview of longitudinal data on food and nutrient intakes over this age range.
Conclusion
In this scoping review we have shown that there is limited longitudinal data available on diet between the ages of 13 and 30. While there is some data available across the macronutrients and key food groups, data availability varies significantly by country and the methods of diet data collection used may have implications for data quality and potential for future evidence synthesis. We found little repeated longitudinal data across the adolescence to adult transition, with very little data reported beyond the early twenties. Recent advances in data collection methodology and use of social media may facilitate new data collection to allow further advances in understanding of dietary change across this age range and its determinants.
Abbreviations
Add Health:

National Longitudinal Study of Adolescent Health
AGHLS:

Amsterdam Growth and Health Longitudinal Study
ANS:

Adelaide Nutrition Study
Bt20:

Birth to Twenty study
CARDIA:

Coronary Artery Risk Development in Young Adults Study
CLHNS:

Cebu Longitudinal Health and Nutrition Study
ECHO:

Etiology of Childhood Obesity
EYHS:

European Youth Heart Study
FFQ:

Food frequency questionnaire
FLSGN:

French longitudinal study of growth and nutrition
GUTS2:

Growing Up Today Study II
HABITS:

Health and Behaviour in Teenagers Study
IBDS:

Iowa Bone Development Study
IDEA:

Identifying Determinants of Eating and Activity
NEXT:

NEXT Generation Health Study
NGHS:

National Heart, Lung, and Blood Institute Growth and Health Study
NLHB:

Norwegian Longitudinal Health Behaviour Study
NLSY97:

National Longitudinal Survey of Youth
OYS:

Oslo Youth Study
Pelotas:

1993 Pelotas (Brazil) birth cohort study
Project EAT:

Project Eating and Activity in Teens
Raine:

Raine Study (The Western Australian Pregnancy Cohort)
SOLAR:

Study of Latino Adolescents at Risk for Diabetes
TRAILS:

Tracking Adolescents' Individual Lives Survey
WHO:

World Health Organization
YEP:

Youth Eating Patterns study
YH:

Northern Ireland Young Hearts Project
Declarations
Acknowledgements
The authors would like to thank Isla Kuhn from the University of Cambridge Medical Library who provided advice and assistance with the literature searches.
Funding
The work was undertaken by the Centre for Diet and Activity Research (CEDAR), a UKCRC Public Health Research Centre of Excellence. Funding from the British Heart Foundation, Cancer Research UK, Economic and Social Research Council, Medical Research Council, the National Institute for Health Research, and the Wellcome Trust, under the auspices of the UK Clinical Research Collaboration, is gratefully acknowledged. This work was additionally supported by the Medical Research Council [Unit Programme number MC_UU_12015/7]. Tarra Penney additionally received support from the Cambridge Commonwealth Trust.
Availability of data and materials
The datasets generated during the current study are available from the corresponding author on reasonable request.
Authors' contributions
EW, KC, MW and EvS designed the study, EW performed the literature searches, EW, KC, EvS conducted title and abstract screening, EW and TP screened full texts and conducted data extraction, EW drafted the manuscript. All authors contributed to the interpretation of results and critically reviewed the manuscript. All authors read and approved the final manuscript.
Competing interests
KC is a director of Ridgepoint Consulting Ltd., an operational improvement consultancy. The remaining authors declare that they have no competing interests.
Consent for publication
Not applicable.
Ethics approval and consent to participate
Not applicable.
Open AccessThis article is distributed under the terms of the Creative Commons Attribution 4.0 International License (http://creativecommons.org/licenses/by/4.0/), which permits unrestricted use, distribution, and reproduction in any medium, provided you give appropriate credit to the original author(s) and the source, provide a link to the Creative Commons license, and indicate if changes were made. The Creative Commons Public Domain Dedication waiver (http://creativecommons.org/publicdomain/zero/1.0/) applies to the data made available in this article, unless otherwise stated.
Authors' Affiliations
(1)
MRC Epidemiology Unit & Centre for Diet and Activity Research (CEDAR), University of Cambridge School of Clinical Medicine, Institute of Metabolic Science, Cambridge Biomedical Campus, Cambridge, UK